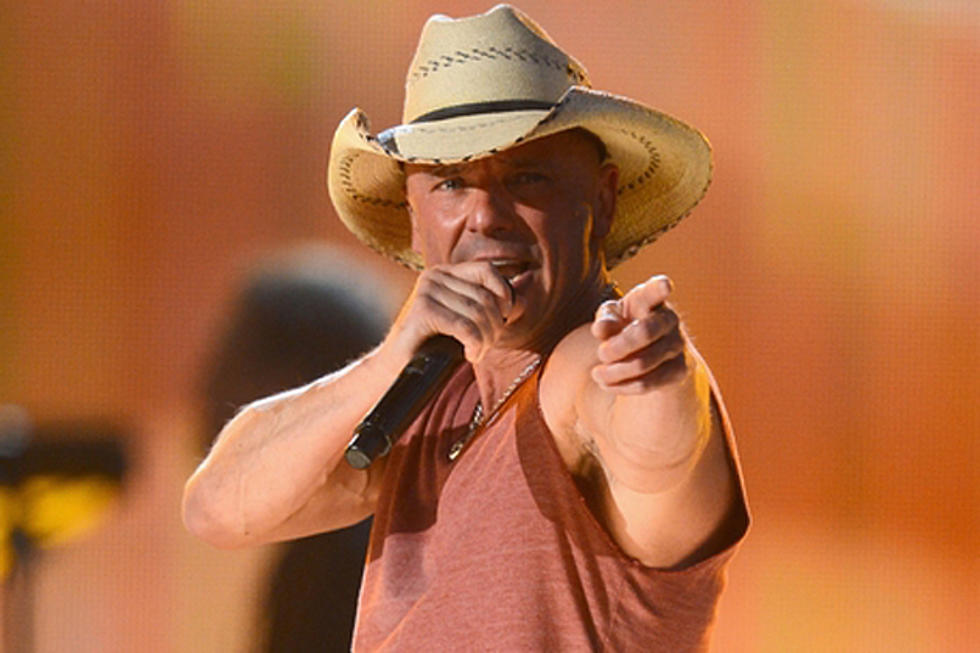 Top 10 Kenny Chesney Songs
Ethan Miller, Getty Images
Kenny Chesney songs are a mixed bag. The superstar has built one of the most successful careers in contemporary country music on a mix of fun, laid-back summer songs, uptempo party tunes and slower, more somber message songs.
Few entertainers in the recent history of country music can compete with Chesney's track record of platinum albums, Top 10 hits and sold-out stadium tours. Chesney hasn't so much kept up with the trends as he has predicted them and led them with his song choices over the years.
Our list of the Top 10 Kenny Chesney Songs draws from a variety of styles across his entire career.
10

"She Thinks My Tractor's Sexy"

From: 'Everywhere We Go' (1999)

The third single from Chesney's fifth album may have been somewhat of a novelty song, but it was a hugely successful one. Premised around the notion that some women find a man on a tractor irresistible, the uptempo track was perfect for Chesney's high-energy live shows. Written by Jim Collins and Paul Overstreet, the song peaked at No. 11 in Billboard and was certified gold.

9

"You Had Me From Hello"

From: 'Everwhere We Go' (1999)

The second single from Everywhere We Go was inspired by the Tom Cruise film Jerry Maguire, in which Renee Zellweger's characters says, "You had me at hello." Chesney took that line and modified it for this song, which he co-wrote with Skip Ewing. It reached No. 1 in the country charts. In a bizarre turn of events, Chesney and Zellweger were later married for a mere four months in 2005 before she filed for annulment, citing fraud as the underlying cause.

8

"When the Sun Goes Down"

From: 'When the Sun Goes Down' (2004)

The title song and second single from When the Sun Goes Down is one of Chesney's quintessential laid-back summer songs. Written by Brett James, the collaboration with Uncle Kracker has such an appealing groove that it became a huge crossover hit, reaching No. 1 in Billboard's Hot Country Songs chart, and No. 26 in the Billboard Hot 100. The song has become a Chesney staple.

7

"How Forever Feels"

From: 'Everywhere We Go' (1999)

"How Forever Feels" almost didn't get to be a Kenny Chesney song at all. Written by Wendell Mobley and Tony Mullins, the song had already been cut by Chesney's good friend Tim McGraw. Chesney only got to release his version after McGraw decided against it. The song, which describes a man who has a good life, but still feels incomplete without someone to share it with, was the first single from Wherever We Go, and reached No. 1.

6

"Come Over"

From: 'Welcome to the Fish Bowl' (2012)

Chesney has gradually moved his focus in recent years to less party songs, and more serious content. "Come Over" is a bit of both; it's a darker, more sonically progressive track, but one that Chesney described best as "a high class booty call." Written by Sam Hunt, Shane McAnally and Josh Osbourne, the song describes a man who's essentially begging a woman to come over. It's a pretty universal theme, and one that lifted the song to No. 1 on the country charts.

5

"When I See This Bar"

From: 'Life on a Rock' (2013)

Chesney's most recent album seems to be even more personal, giving a glimpse into the life of the ultra-private superstar. The second single, "When I See This Bar," was inspired by a real bar on the island where Chesney lives. Chesney and co-writer Keith Gattis used that as a metaphor for all of the changes that we go through in life, and the permanence of the people, places and experiences that helped shape us in this country rock track, which broke even more new ground for Chesney.

4

"Don't Blink"

From: 'Just Who I Am: Poets & Pirates' (2007)

Chesney demonstrated his ability to engage listeners in fare deeper than party songs with this track, which became one of the fastest-rising singles of his career. Written by Casey Beathard and Chris Wallin, the song tells the story of a 102-year-old man who shares that the secret to life is to not blink and miss any of it: "'Cause when your hourglass runs out of sand / You can't flip it over and start again." The song took a mere eight weeks to reach the top spot on the country charts, becoming Chesney's 13th No. 1 hit.

3

"The Good Stuff"

From: 'No Shoes, No Shirt, No Problems' (2002)

"The Good Stuff" was an early indicator that Chesney was willing to push himself to cut far more substantial songs than many of his contemporaries. Written by Jim Collins and Craig Wiseman, the song describes a man who goes into a bar after a fight with his wife and orders "the good stuff," only to have the bartender impart a lesson from his own hard experience about what "the good stuff' in life really is. The poignant track became Chesney's fifth No. 1 hit, and stayed at the top of the charts for an astonishing seven weeks.

2

"You and Tequila"

From: 'Hemingway's Whiskey' (2010)

Chesney took a huge risk with "You and Tequila" by recording a pure piece of songwriting that would have been more at home on an independent singer-songwriter release, not a major commercial album. It paid off in a big way -- written by Matraca Berg and "Strawberry Wine" singer Deana Carter, and recorded as a duet with Grace Potter, the song reached No. 3 in the charts, earned Platinum status, and garnered two Grammy nominations.

1

"There Goes My Life"

From: 'When the Sun Goes Down' (2004)

Though Chesney is the master of beach songs and good-time anthems, he's at his most effective when he records harder-hitting material. "There Goes My Life" tells the story of a young man who gets his girlfriend pregnant, thinking he has destroyed his life, then comes to realize that his daughter has re-defined him. Written by Neil Thrasher and Wendell Mobley, the song was drawn in part from Mobley's real life -- he fathered a daughter while still in high school, who passed away when she was a year old. The song remains one of the biggest hits of Chesney's career, reaching No. 1 for seven consecutive weeks.