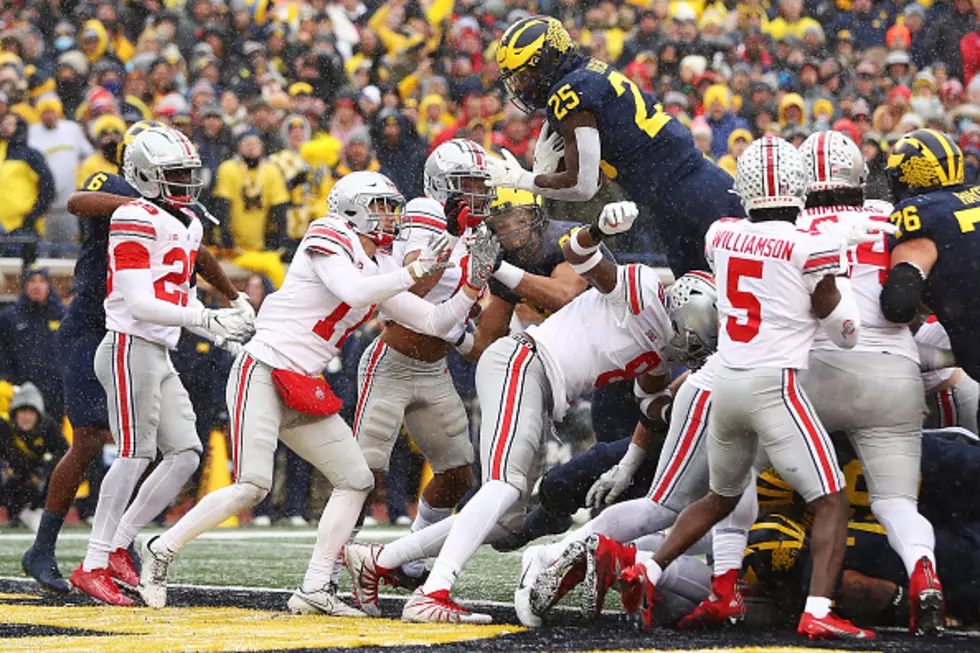 This Thanksgiving Weekend's Best College Football Rivalry Games
Getty Images
The holiday season kicks off this week and along with a triple-header of NFL action on Thursday, the college football ranks often shine with storied rivalries. Those of us old enough to remember Doug Flutie's "Hail Mary" touchdown pass to propel Boston College over defending National Champion Miami, recall the magic happened on that Friday after Thanksgiving. Even the casual college football fan will enjoy some of the classic match-ups this weekend.
In college football, "The Game" refers to the Ohio State vs. Michigan annual grudge match. Since 1897, these two institutions have met 117 times on the football field. Michigan leads the series 59-51 with 6 ties. On Saturday at noon, #3 Michigan visits #2 Ohio State. The Big Ten title is likely at stake but more importantly, these two undefeated teams will be vying for a National Championship. The game will be on FOX. This is a don't miss.
The Iron Bowl between #8 Alabama and their in-state rival Auburn doesn't have the cache of year's past. But these two teams don't like each other just the same. Auburn comes in 5-6 and would like nothing more than to eliminate Nick Saban and the 9-2 Crimson Tide from any thought of competing for a National Championship. Alabama leads the series 48-37-1. These two teams first met on the gridiron in 1893. This game is Saturday at 3:30pm on CBS.
Well, you might as well go for the rivalry triple-header on Saturday at #13 Notre Dame travels to #5 USC. These two storied college football programs have been playing each other on Thanksgiving weekend since 1926. The Fighting Irish lead the all-time series 48-36-5. This Saturday has National Championship implications for USC. The Trojans are sitting just outside of a FBS Playoff spot. Saturday night at 7:30pm on ABC.
OK, a couple of "Honorable Mentions"; NC State travels to #18 North Carolina for the Tobacco Road Bowl. There are no great implications on this game but these two teams don't like each other. That game is Friday at 3:30pm on ABC. Speaking of not liking each other, they informally call the Appalachian State vs. Georgia Southern match-up, the "Deeper Than Hate Bowl." That game is on Friday at 6pm on ESPN+. This should give you plenty of fun college football to enjoy this weekend with your left-overs. Happy Thanksgiving to all.
New Yorkers Rank Their Five Best Thanksgiving Meal Side Dishes
It's not a Thanksgiving Day feast without "all the fixin's" on the side, and New Yorkers have ranked these five side dishes as the best to have with your turkey.
New York's Christmas Store
Wit's End Giftique in Clifton Park is much more than a Christmas store. This is a museum for the Capital Region and all of New York State.
Every Country Artist Performing In Upstate NY In 2022 and 2023
We are set for a big year of Country shows in 2022, and here is a complete list of artists set to perform in 2022 in the Capital Region and all over Upstate New York.