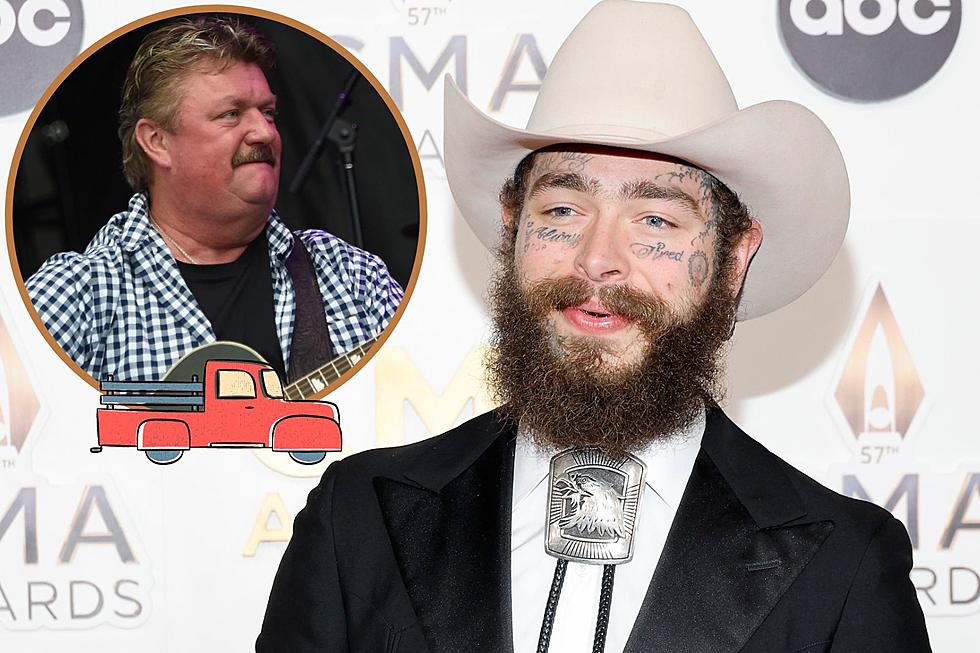 Gone Country: Post Malone's Joe Diffie Duet Officially Hits the Charts
Rick Diamon/Jason Kempin, Getty Images
Post Malone has gone from a country music fan to a country music artist: The rapper's latest foray into the genre has officially landed on the charts.
Post's duet with the late Joe Diffie on "Pickup Man" — a new song, essentially — has officially debuted on the Billboard Country Airplay chart.
Billboard reports the song is sitting at No. 56 with 826,000 audience impressions. The new version (featuring Diffie's vocal recordings from a 2006 re-recording) is Malone's first single to chart at country radio.
Fans got a taste of Malone's version of the song when he covered it at the 2023 CMA Awards. He joined Hardy and Morgan Wallen for a medley of Diffie's hits during the show.
Malone's 2023 rendition of "Pickup Man" is featured on Hardy's upcoming Hixtape Vol. 4: Difftape, due in March. The project will be a tribute to Diffie, filled with old recordings of his voice and covers from several other country artists.
"What we have basically done with Hixtape, is we have taken some of Joe's vocals out and added some of the biggest singers in country music to help him out," Hardy shares, adding that they have all of Diffie's vocal recordings.
"... It's gonna be bada-- and I'm really excited about it," he adds.
This explains why Malone has been spotted in studio with various country artists lately; he has posed for photos with Wallen, Ernest and Brad Paisley in recent weeks.
Those photos could signal the start of a full country album for Malone. In 2022, he revealed his desire to make a country-focused project after being a fan of the format for a long time.
"To be honest, there's nothing stopping me from taking a camera or setting up in my studio in Utah and just recording a country album [to put] on YouTube," Malone said at the time. "I'm allowed to do that, I'm a human being."
Details surrounding a full-lengthy country album from the rapper have yet to be revealed.
12 Artists Who Didn't Attend the 2023 CMA Awards
Nearly 100 country stars attended the 2023 CMA Awards, but several superstars missed out. Here are 12 we missed in Nashville on Wednesday (Nov. 8).
Gallery Credit: Billy Dukes