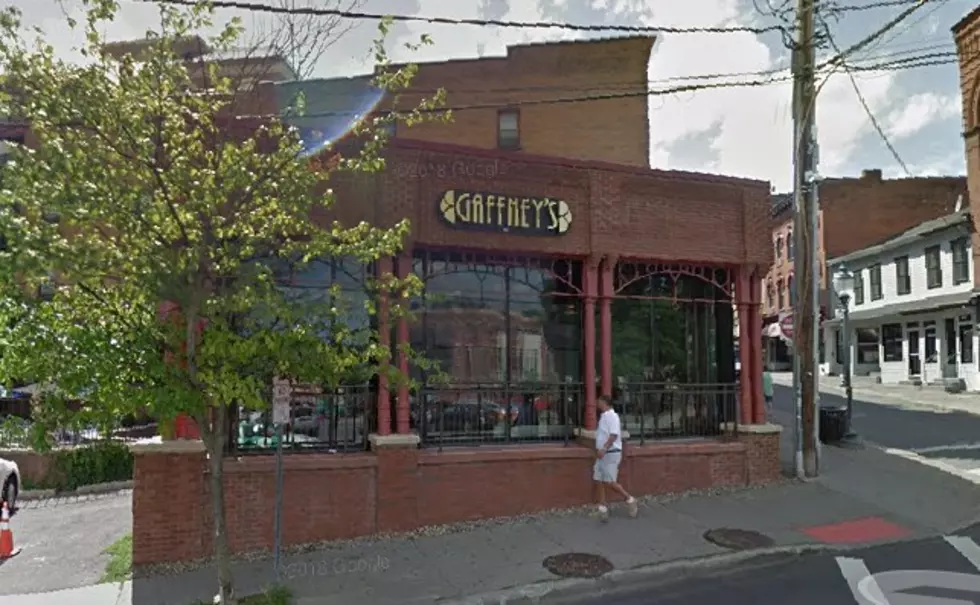 Gaffney's can Reopen, if it can Afford a Major Fine and New Rules
Google Street View
After a series of violent incidents along Caroline Street in Saratoga over the past year, much of the focus, right or wrong, has been on one particular establishment, Gaffney's.
The restaurant and bar also serves as a nightlife hot spot in the city with guest DJ's, celebrity appearances and live music. However back in May, the state liquor authority revoked the restaurants liquor license. In effect, shutting it down. It came after a reported 65 complaints from city police to the SLA.
Now, the SLA says Gaffney's can reopen, but only under a strict new set of rules:
Last Call is at 1:30am
Closing time is 2am
No DJ's
All music must be 'pre-recorded background music' - so that pretty much excludes any live bands
All customers entering the bar must be checked by an electric wand (metal detector after) 9:30pm
All customers must have their ID scanned
Any violent incidents must be reported to the police
Adhere to guidelines set by police
And the biggest stipulation of all, Gaffney's must pay a $70,000 fine. The restaurant must pay the fine within 20 days or their liquor license will be revoked.
With all the bad press, the new set of rules and the hefty fine, the real question is - will they? Summer in Saratoga has begun and track season kicks in in another month. The new guidelines are said to be part of a 'settlement' that will allow the bar to reopen. Gaffney's Facebook page has not been updated since March and their website makes no mention of their current closure or plans to reopen.
Despite Gaffney's being shutting down, fights have continued to break out in that same area. The owner of the nearby Broadway Deli said back in May that police were scapegoating Gaffney's for the violence.
Whatever the outcome, Saratoga Springs Police say they will be boosting their presence in the city as tourist season beefs up.
[News 10] [Times Union]
Saratoga Race Track and Celebrities
Here are some celebrities that spent some time at Saratoga Race Track
Saratoga's Haunted Canfield Casino
Tour the haunted Canfield Casino in Saratoga, New York
Remembering Kaydeross Park on Saratoga Lake
The beach, the rides, the games, this really was a fun place in the Saratoga area.