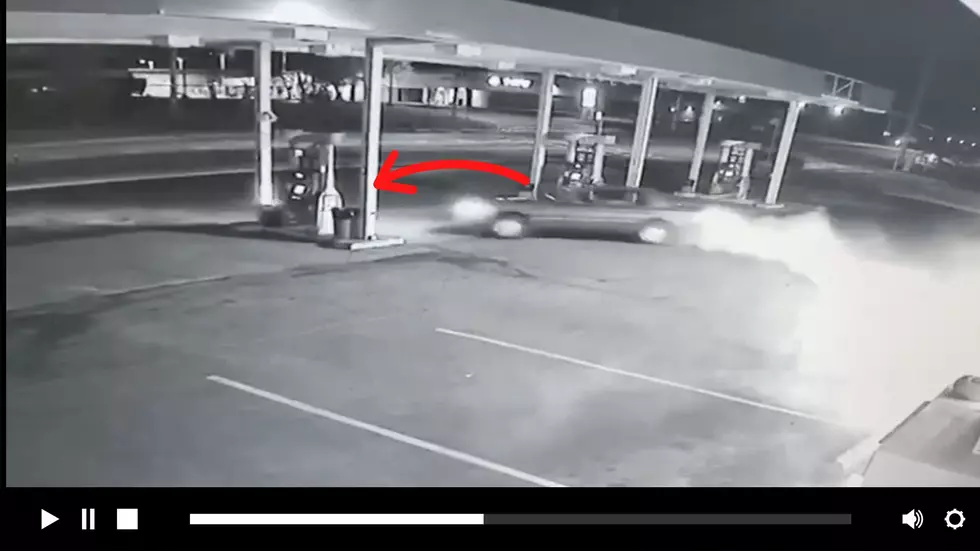 Driver Blows Up Gas Pump Doing Donuts in Upstate NY (VIDEO)
Photo: Youtube Screengrab
What are we thinking here?  Police in Gates, New York released video surveillance of an Upstate driver that will blow your mind - while nearly blowing up an entire gas station.
Check out the video below of a man who admitted to doing donuts in a gas station parking lot.  Moments after he hit the accelerator, he hits a gas pump head-on and then flees.
Police in Gates, NY (North of Rochester) reports that they responded to a gas station fire just before 5 am on Sunday morning.
When they arrived at the scene, "officers found a small fire at the gas pumps and that the suspect had fled."
According to the report, there was one witness who did get a partial license plate, before the car burst into flames.
During their investigation into the vehicle description and partial plate, officers were led to a residence in Ogden where they located the vehicle.
While in Ogden officers located a Mercury Marquis with front-end damage operated by 18-year-old Ryan Odell, and it was the car.
"Odell admitted to his actions in the accident, trying to do a burnout in a parking lot, and was arrested. Odell has been charged with Criminal Mischief 4th degree and Leaving the Scene of a Motor Vehicle Accident. Appearance tickets were issued to return to Gates Court at a later date." Gates Police Department
According to police in Rochester, the man admitted to starting a fire at the pump after he crashed into it when he was "trying to do a burnout" on Sunday.
The footage below shows the car bursting into flames moments after Odell hits the pump.
19 Of New York State's Most Wanted Criminals- December 2022
Below are individuals wanted by the New York State Department of Corrections and Community Supervision's (DOCCS) Office of Special Investigations who have been designated as its
Most Wanted Fugitives
. They should be considered armed and dangerous. This list is current as of 12/01/2022:
NEVER attempt to apprehend a fugitive yourself. If you have information on the location of any of these fugitives, you can contact OSI 24 hours a day / 7 days a week to report it. All leads and tips are treated as confidential information.
If an immediate response is necessary, such as you see the wanted person at a location, please call "911" and report it to the police.
5 New York State Hometowns Among 'Best Christmas Towns' In U.S.
Five places in New York State are among the best places in the world to celebrate the magic and charm of the holidays.
Albany's Top 10 Snowiest Winters Of All Time [RANKED]
Another Upstate New York winter is upon us. And while it is popular for forecasters to predict a cold and snowy winter ahead, how much snow would it actually take to make it an all-time winter when it comes to big a big snowfall total for the season? In the average winter, the National Weather Service (NWS_
says
we get 59.2 inches of snow in Albany. We will have to crush that number this winter for the season ahead to make this
NWS
top 10 list of our snowiest Albany winters on record.