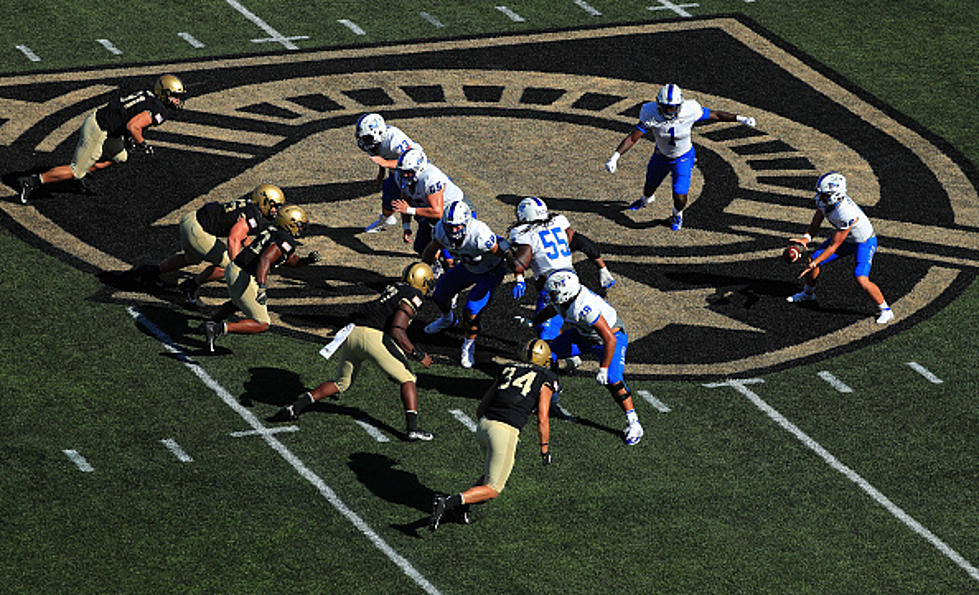 5 Easy & Cool College Football Destinations for Albany Sports Fans
Getty Images
Sometimes you don't have to be in the "state of the art" football stadium to get a feel for the tradition of a football program. Let's take a look at 5 easy trips from the Capital Region in New York, for people who love college football! You won't just enjoy the ride, you'll love these trips from the pre-game tailgate parties to the post game celebrations!
#5 Union / RPI (in a non-Covid year) - Union played its first football game November 11, 1886 and RPI played their first game the same year. These are two storied colleges with a long history of supporting the true tradition of college football. NFL placekicker Andrew Franks played at RPI, as did former Detroit Lions head coach Matt Patricia. Union plays on Frank Bailey Field at Bertagna-Class of 1985 Stadium, which holds about 1600 fans and RPI plays in ECAV Stadium but no fans if you don't live or work on campus at RPI home games this year. Both of these historic programs are worth the price of admission and a check on your Easy & Cool College Football Destinations bucket list.
#4 Yale - The Bulldogs started playing football November 16, 1872. They beat Columbia 3-0 and so it began. Long before the Alabamas and the Clemsons ruled the gridiron of college football, the Yales, the Princetons and the Harvards dominated the pigskin headlines. The football is probably better than it's ever been and the Yale Bowl was built in 1914. It is an incredibly fun way to spend your Saturday afternoon and it's about 2 hours each way from Albany, well worth the trip! Go to www.yalebulldogs.com for tickets.
#3 UAlbany - The Great Danes started playing football in 1970 as a club team. Head coach Bob Ford coached 44 seasons and took the team from club to Division I FCS. Head Coach Greg Gattuso is in his 8th season now and has that program rolling in a championship direction in the toughest FCS conference in the country, the Colonial Athletic Association (CAA). Prior to the pandemic, Gattuso led his team to an NCAA playoff victory and the second round of the FCS NCAA championship. Tom & Mary Casey is beautiful and an easy trip down Western or Washington Ave in Albany. Definitely worth multiple trips to cheer on the Great Danes. Go to www.ualbanysports.com for tickets.
#2 Syracuse - The Orange had quite a run as a storied football program for many years. NFL legends Jim Brown, John Mackey, Art Monk, Donovan McNabb and Larry Czonka all played at Syracuse. Yes, its been a few years since players like that have lit it up at the Carrior Dome but ACC football is really good and Syracuse has some cool home games, including UAlbany. The Carrior Dome is about 2 hours and twenty minutes from Albany each way. The tickets are cheap. They serve beer at the games and it never rains! Definitely worth the trip.
331169" align="alignnone" width="300"]
Getty Images[/caption]
#1 Army West Point - If you are a traditionalist and you are of driving age, you have already made this trip. If you have not, don't wait any longer. Yes, a football game is mixed in but from the moment you pull in it is worth the price of admission. The views of the lower Hudson Valley from the West Point campus are nothing short of spectacular. Go to www.goarmywestpoint.com for all of the ticket, parking and game day information that you will need. This to me is second to none of the Easy & Cool College Football Destinations that are easy to get to from Albany. This trip is just over 2 hours each way.
If I left off your favorite place, please let me know! Enjoy some fall football.
LOOK: Here are the pets banned in each state
Because the regulation of exotic animals is left to states, some organizations, including The Humane Society of the United States, advocate for federal, standardized legislation that would ban owning large cats, bears, primates, and large poisonous snakes as pets.
Read on to see which pets are banned in your home state, as well as across the nation.