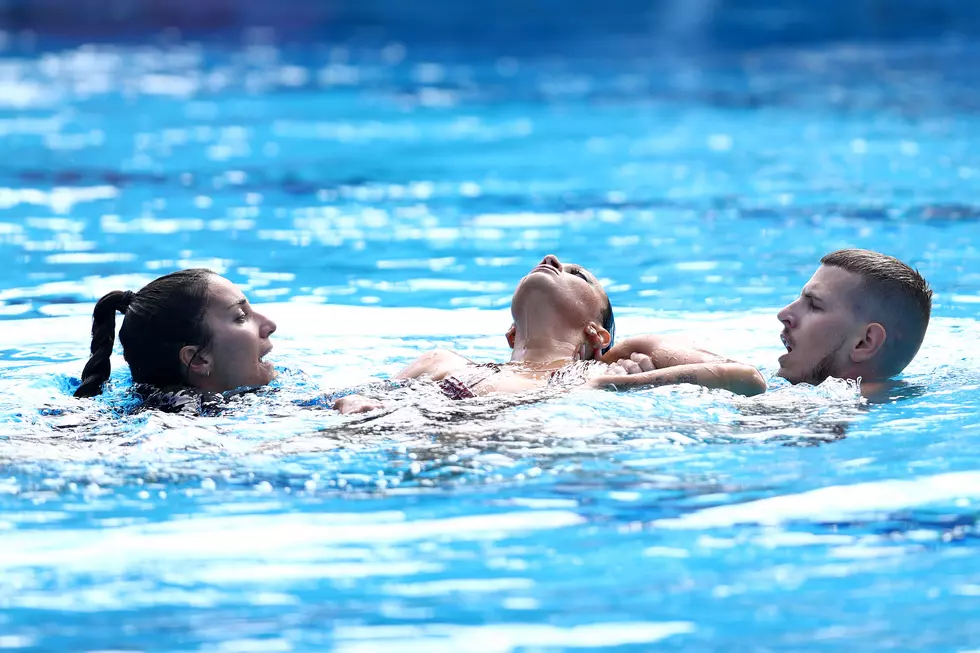 On World's Biggest Stage, This Coach Saved an Upstate NY Swimmer
Getty Images
For artistic swimmers across the world, their sport had reached its biggest stage.
The 2022 World Aquatics Championships began on June 18th, and are scheduled to run through July 3rd, with all of the festivities taking place in Budapest, Hungary. The best artistic swimmers from across the world take center stage in the waters of the Budapest pools, and compete for gold medals in their respective events.
This year's United States team is well represented, and even has a swimmer that hails from Upstate New York. It was that swimmer, 25-year old Anita Alvarez, who ended up in a terrifying situation during Wednesday's competition.
---
25-Year Old Upstate NY Swimmer is Saved From Drowning by Coach
As originally reported by The New York Times, and corroborated by Kadie Daye of WYRK in Buffalo, 25-year old Upstate New York native Anita Alvarez fainted while competing in the 2022 World Aquatics Championships in Budapest. Alvarez was completing her solo routine during the synchronized swimming portion of the event, when she lost consciousness.
She began to sink to the bottom of the pool, and for a moment, no one entered the water. That's when her coach, Andrea Fuentes, made the decision to spring to action. She dove into the pull, still completely clothed, and was able to pull Alvarez from the depths of the pool. She eventually received help getting Alvarez to the side of the pool, and eventually, onto the pool deck.
All of this happened in a matter of seconds, but it was those seconds that ended up saving her life.
In total, Alvarez went roughly two minutes without breathing, before officials were able to get the water out of her lungs, and help her re-gain consciousness. Updates reports are saying that she is resting up, and doing well. No official word has been given as to whether she will continue to compete in the championships, though she experienced a similar incident last year, and was back in the pool hours later.
USA Artistic Swimming posted the following update on their Instagram page:
Alvarez was born in Amherst, New York, and attended Kenmore West Senior High School. She's competed for the United States in two Olympic Games (2016 and 2020), and has won two medals as a member of the national team, both coming in the Pan American Games.
Alvarez's future is extremely bright, and thanks to some quick thinking from her heroic coach, she'll be back in the pool in no-time.
---
Scroll down to see photos from the event from Getty Images. Please be warned, that some of these images could be a bit disturbing to some people, as they show Alvarez while still unconscious. View at your own risk.
On World's Biggest Stage, This Coach Saved an Upstate NY Swimmer
During the World Aquatics Championships in Budapest, an Upstate NY swimmer fainted, and the team's coach had only seconds to react to the situation.
One Famous Athlete Born in Each of the Capital Region's 11 Counties
From the "big four" professional sports leagues, to the Olympics and beyond, a number of famous athletes were born and raised right here in the Capital Region. Here is one famous athlete from each of the 11 counties in the Capital District.