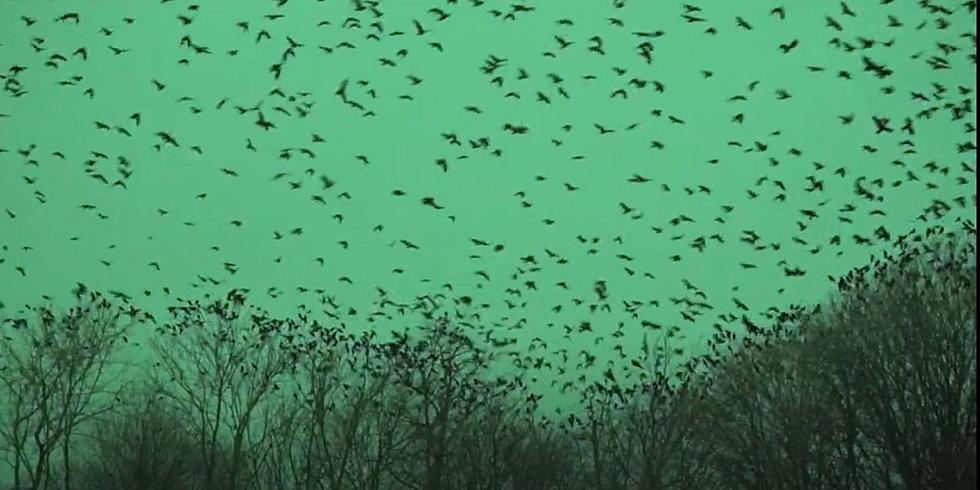 Over 10,000 Crows Ready To Invade Hudson Valley, Upstate New York
Winter Crow Roost/YouTube
Thousands and thousands of crows are ready to invade the Hudson Valley.
We learned why this will happen very soon.
Crows Will Soon Flock To Dutchess County, New York
Late in the fall, 10,000 or more crows head to Poughkeepsie for the largest roost in hundreds of miles, according to Scenic Hudson.
For all the news that the Hudson Valley is sharing make sure to follow Hudson Valley Post on Facebook, download the Hudson Valley Post Mobile
Why Do Crows Choose Poughkeepsie, New York
Why 10,000 Crows Invade Poughkeepsie, New York
Over 10,000 crows is certainly a lot of crows, but officials note roosts in the Midwest can feature millions of crows!
Central New York Also Experiences Large Crow Roost
Officials with the Ralph T. Waterman Bird Club note that around 25,000 crows roost in Auburn on Owasco Lake and other places in Central New York.
Song Made About Poughkeepsie Crows
The crow roost in Poughkeepsie is so popular, that a song was even recently made about it!
Steve Bohn, the founding member of Song Supply Co, sent us an email with the band's song "Crows Over Poughkeepsie." Give it a listen.
Incredible Video Of Crow Roost In Poughkeepsie
The YouTube page "Winter Crow Roost" recently uploaded a video of a recent crow roost in Poughkeepsie.
In this video, crows began meeting between South Hamilton Street and Route 9. The birds eventually settled on trees on both sides of Route 9, behind the Water Club complex.
Upstate New York's 15 Snobbiest Cities
We decided to have fun with AI. We decided to ask
ChatGPT
"What are the 15 snobbiest cities in all of Upstate New York, and why would you pick them as your choice?" So before you send off complaints our way, send them to ChatGPT. We didn't create this list, we are only sharing it. So hopefully you'll have a sense of humor, and stick your pinky out.
Gallery Credit: Dave Wheeler
20 Worst Places to Live in New York State
A list highlights the worst places a New York resident can call home. A number of places in the Hudson Valley made the list, including one that was ranked the worst place to live.
Giant Horror Plant
A "giant horror plant" that can cause blindness and severe burns is still in New York State, despite the best efforts from New York officials.
The 10 Best Counties To Live In New York State
Is your hometown's county considered by
Niche
one of the best in New York State?