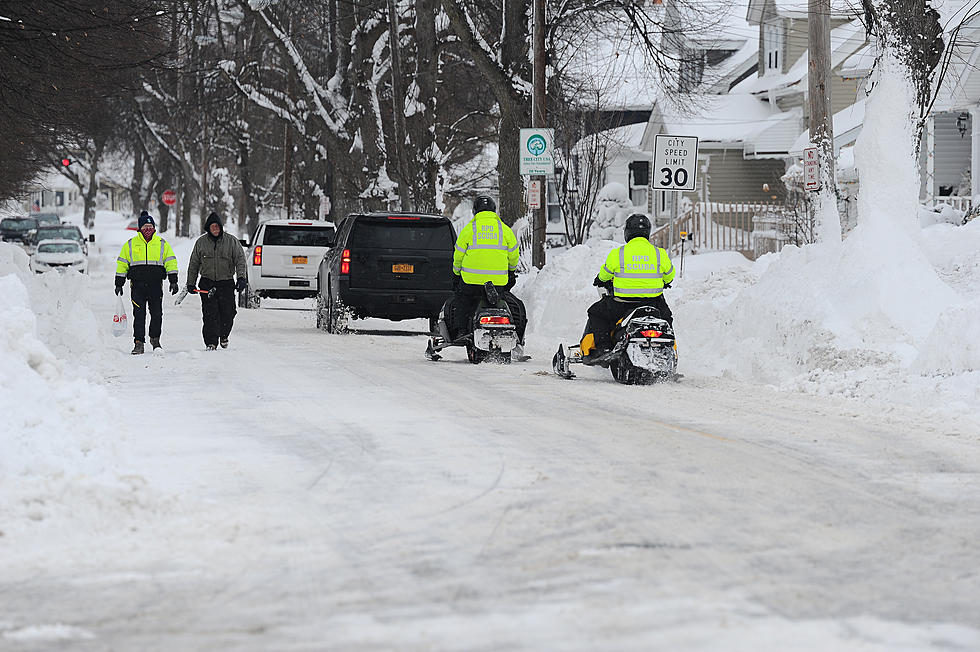 Severe Weather, Artic Blasts, and More On The Way This Winter in New York and Beyond
Getty Images
The weather we will experience this winter will likely be brutal and unforgiving and here's why.
One thing that's certain here in Upstate New York - you cannot escape the winter. The big question is always how bad the storms will be and how much snow is expected to pile up.
We already know that the Farmer's Almanac has predicted it to be cold & snowy this year, but why?
El Nino is the reason
What does that mean? It means that the waters out near the Pacific ocean are getting warmer than usual. For the past three years we've been in a La Nina, which means that the water in the Pacific have been cooler.
Here's the definition of El Nino, according to National Geographic.
El Niño is a climate pattern that describes the unusual warming of surface waters in the eastern tropical Pacific Ocean. El Niño is the "warm phase" of a larger phenomenon called the El Niño-Southern Oscillation (ENSO).
How is Upstate New York impacted by warm waters in the Pacific?
The warm water sin the Pacific create a jet stream that moves east towards the Atlantic, warming the waters there. That combined with colder air coming down from Canada creates the perfect conditions for winter storms to form and thrive.
Make sure you've got your shovels and snowblowers ready, because if the predictions are correct we could see a lot of snow, artic blasts from Canada, and severe weather up and down the entire East Coast.
In addition to storms on the East Coast, the southern parts of the United States that are currently experiencing heat advisories and higher than normal temperatures could see a significant cool down.
Watch this full video for a complete explanation on the winter predictions:
Albany's Top 10 Snowiest Winters Of All Time [RANKED]
Another Upstate New York winter is upon us. And while it is popular for forecasters to predict a cold and snowy winter ahead, how much snow would it actually take to make it an all-time winter when it comes to big a big snowfall total for the season? In the average winter, the National Weather Service (NWS_
says
we get 59.2 inches of snow in Albany. We will have to crush that number this winter for the season ahead to make this
NWS
top 10 list of our snowiest Albany winters on record.
Gallery Credit: Matty Jeff
Albany's 10 Least Snowy Winters Of All Time
Some winters in Upstate New York can be absolutely brutal as far as massive amounts of snow. Then there are times like this winter when it feels like the snow is pretty much non-existent. It wouldn't be the first time! Here are the 10 least snowy winters of all time according to the
National Weather Service of Albany
Gallery Credit: Matty Jeff