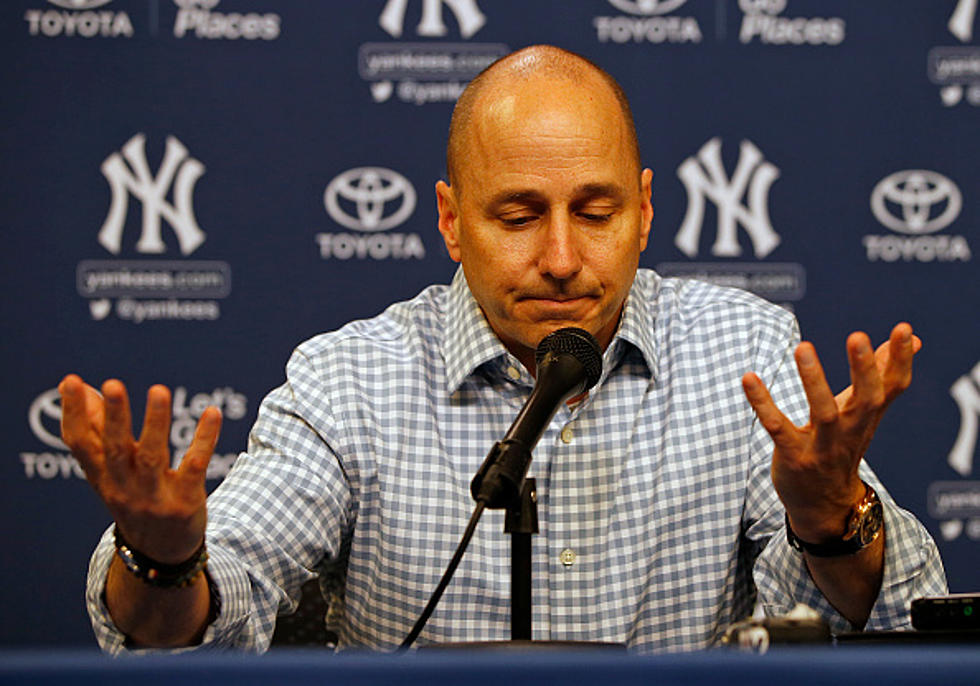 Maligned New York GM Admits to 'Disaster', 'Embarrassing' Season
Getty Images
New York Yankees' GM Brian Cashman spoke to the media on Wednesday, and his comments were, for once this season, refreshing for some fans.
Cashman was extremely candid when answering questions from reporters, even going as far to call the season a disaster, and an embarrassment. He also made allusions to important conversations that will be had following the season, setting the tone for an offseason that will be anything but boring in The Bronx.
These were some of the most poignant quotes from the Yanks' GM on Wednesday night.
---
Brian Cashman Gives Candid Answers About Yankees' Season, His Future
A story from ESPN and other outlets documented comments made by New York Yankees' GM Brian Cashman during a press conference held at Yankee Stadium earlier this week. Cashman took to the podium to answer questions about his team, which at the time, sat in last place in the American League East, and was trying to avoid losing ten games in a row for the first time since 1913.
They did avoid making history that night, but that didn't stop Cashman from giving some very real, very self-aware answers to the questions he was asked.
Here is a selection of quotes made by Cashman Wednesday night:
"It's been a disaster this season. Yes, definitely a shock. We're embarrassed by it."

 

"We're really obviously disappointed, frustrated, angered."

 

"And that's representative from every aspect of this franchise from top to bottom. And that includes our players, too. They care. They're fighting."

 

"I know it doesn't look like that, but I would say if you try to put yourself in their position, I don't think anybody wants to go out in front of 40,000 people and lay an egg, whether it's individually or collectively as a team, because then what comes with that is pretty horrific."

 

"I think we're all going to be evaluated, including myself." - Brian Cashman, all via ESPN
As stated by ESPN in their article, Cashman and Boone met Friday with owner Hal Steinbrenner, who wants a wide-ranging evaluation of the organization.
Yankees' fans have been demanding accountability for their team's futility this season, and Brian Cashman stepped up to the plate (pun intended) for them. He answered honestly, and his recognition of the team's failures was welcomed by some members of the fanbase.
Now, the question becomes this: if everyone is evaluated this offseason, could Cashman really be on the chopping block? I certainly don't believe he would be, but depending on how the next five weeks go, you never know what could happen.
Ten Reasons the 2023 New York Yankees Appear to Be on Life-Support
It's the middle of June, and there's still over half of the 2023 MLB season remaining, but fans are getting anxious as the New York Yankees fade fast.
Ten Candidates to Replace Aaron Boone Amid New York Yankees' Disaster
With the New York Yankees struggling out of the gate in 2023, Aaron Boone's seat appears to be getting hot, if you ask the fans. Who could replace him?