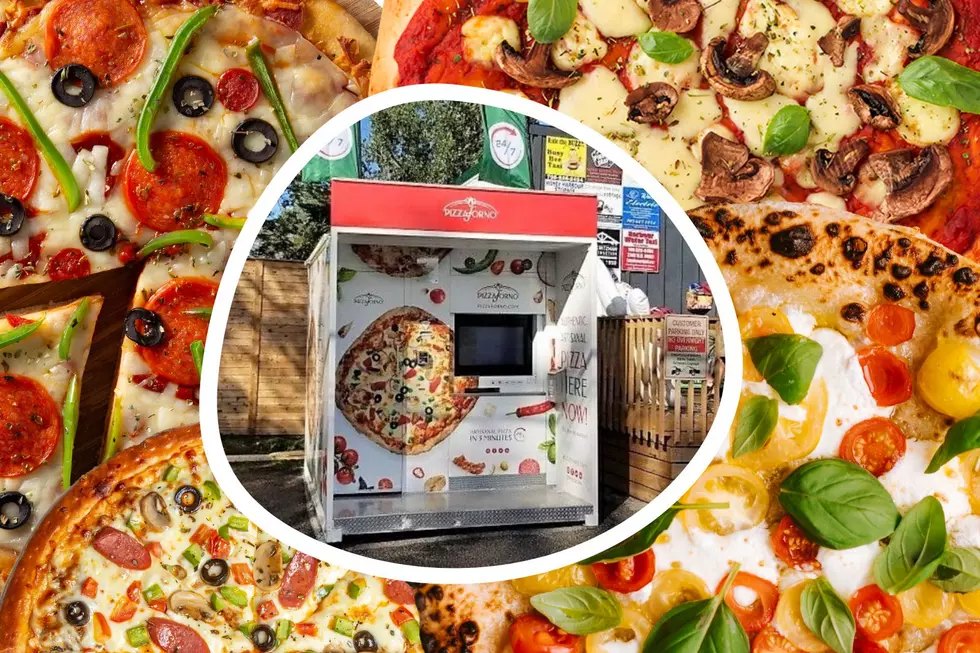 Pizza Vending Machines Really Exist, Here's How to Find Them
thepizzaforno via Instagram/Canva
Whether you are stumbling out of a bar or wrapping up working third shift, sometimes you need to have pizza available 24 hours a day.
A Toronto-based company is making that happen after placing pizza vending machines around the U.S.
How Does The Pizza Vending Machine Work?
PizzaForno's vending machines offer 10-inch pizza for $10 to $13. According to Eater, the pizza will either come out of the machine piping hot or uncooked so you can take it to bake at home.
A writer for Eater who tried a vending machine in Atlanta said she entered her order on a display screen and paid for the pizza. The machines accept credit and debit cards along with mobile pay.
"As promised, just three minutes later, a piping hot box containing my pepperoni pizza ejected from the machine like a VHS tape or money from an ATM, followed shortly after by the cheese pizza," the Eater article stated. "Within 10 minutes, I was good to go."
Where To Find Pizza Vending Machines
Several of PizzaForno's vending machines are located in Canada. The company broke into the U.S. market in 2021 after firing up a vending machine in Jackson, Michigan.
MLive reported earlier this year the machines in Jackson have since been relocated to a different location due to "low foot traffic." Michigan pizza lovers can now get pies 24/7 from a vending machine in Flint.
Additional U.S. cities with PizzaForno vending machines include:
Alabama

Georgia

Louisiana

Texas

Crystal Beach
Freeport
Friendswood
Galveston
Houston
Pasadena
San Antonio
A complete list of PizzaForno locations is available HERE.
Is Vending Machine Pizza Any Good?
According to PizzaForno, each of their machines holds 70 12-inch pizzas. Each pizza has a "sell by" date for three days later keeping it from being vended if it is past that time.
Eater writer Lia Picard recently tried a PizzaForno machine in the Atlanta area.
"The flavor and texture were lackluster, but not offensive," Picard wrote. "Let's call it forgettable, but edible."
Picard said she did enjoy her cheese pizza more than the one with pepperoni.
Yelp's 10 of the Most Outrageous Pizzas
How we did it: We compiled a list of 10 places that offered unique pizzas and received top ratings from Yelp users.
See Inside Jimmy Buffett's Staggering $6.9 Million Palm Beach Mansion
Jimmy Buffett
sure knew how to live the good life. His former 3-bedroom, 3.5-bathroom, 4,039-square-foot mansion in the exclusive Eden Properties neighborhood in Palm Beach is exactly the kind of laid-back home you'd expect the superstar to relax in when he was off the road.
The interior centers around a combined dining and living room with eye-popping vaulted ceilings topped off by skylights, while a massive wall of mahogany-framed sliding glass doors looks out over the pool area outside. The kitchen is decorated in gleaming white, and each of the bedrooms has its own attached bathroom, while the massive master suite also has sliding glass doors that open to both the pool and a bathroom that looks like it belongs in a high-end resort.
The exterior of the house is just as striking, centered around a sparkling pool of deep cobalt blue. The pool area features plenty of lounging, and a loggia just outside the living room offers open-air dining. There are lush gardens, brick paths that walk through elaborate pergolas and a fountain. The property also features a two-car garage with a guest suite overhead, and it offers deeded access to the beach nearby.