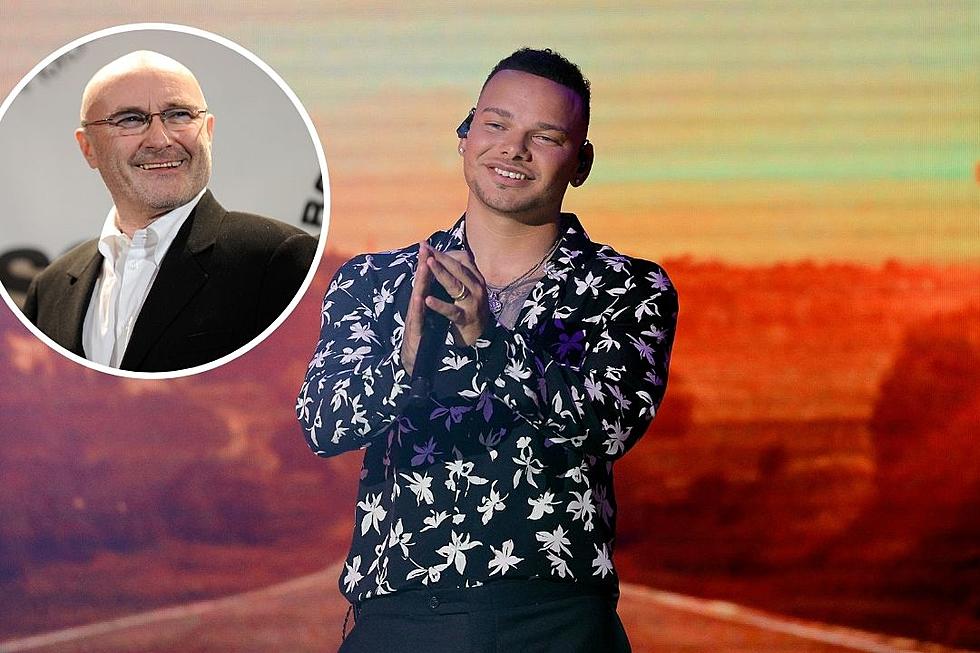 Kane Brown Is Grateful Phil Collins Signed Off on 'I Can Feel It' Sample
Jason Kempin , Stephen Lovekin , Getty Images
Kane Brown has secured ten No. 1 country songs in his career thus far, in the less than 10 years he's been actively releasing to country radio.
I recently had the chance to sit down with the global superstar to discuss everything that is going on in his busy life, both as a musician and a dad. Brown has told me in the past that he's had some doubts about singles he has released and whether they would top the charts.
His just-dropped new song, "I Can Feel It," is not one of those that Brown had any doubts about.
"I got it originally when I was playing Stagecoach this year," he says of the song. "I wanted Phil Collins to come out on stage with me, I thought it would be cool."
Collins didn't end up joining the country star, but he did give his blessing, Brown explains. "I ended up just writing to his song, 'Feel It in the Air.' We were sampling that big drum fill, and the title is 'I Can Feel It,' so it's, I can feel it in the air tonight."
"It's very energetic, high energy," Brown says of his new song, which pulls inspiration and a straight sample from Collins' 1981 classic. "I'm excited to put it in my show, and I think it's gonna be a great song to hear on the radio."
If anyone knows what a good radio song is, it's him — the "Thank God" hitmaker tells me he is instrumental in choosing what his next radio single is going to be. He has a pretty good track record, so if he thinks this one is a winner, it's hard to bet against it.
Brown just announced a new tour in 2024 to go along with the new song release.
Evan Paul is the host of Taste of Country Nights, a syndicated radio show heard on more than 120 country radio stations nationwide, every night from 7PM to midnight. He plays the best new country music and interviews today's top stars, like Luke Combs, Miranda Lambert, Dan + Shay, Keith Urban, Carrie Underwood, Luke Bryan, Chris Stapleton, Lady A, Morgan Wallen, + more! 
20 Kane Brown Songs Every Fan Has Memorized
Kane Brown has built himself quite the career: He's come a long way since 2015, when he released his first single, "Used to Love You Sober." Prior to that, Brown was covering other country stars' songs for social media. Now, he is a star, with nine No. 1 hits under his belt, including a special duet with his wife Katelyn. There's no ceiling to this Tennessee boy's success!
Pictures: Kane Brown, Brothers Osborne at Ally 400 In Nashville
The Ally 400 took place at the Nashville Superspeedway on Sunday (June 26). Country artists like Kane Brown, Brothers Osborne and more were on hand to enjoy the race.
10 Kane Brown Facts You Probably Didn't Know
In this list of 10 little-known facts about Kane Brown, you'll learn about the singer's wildest fan interaction, the story behind his first tattoo, why he was rejected by the Army and more.