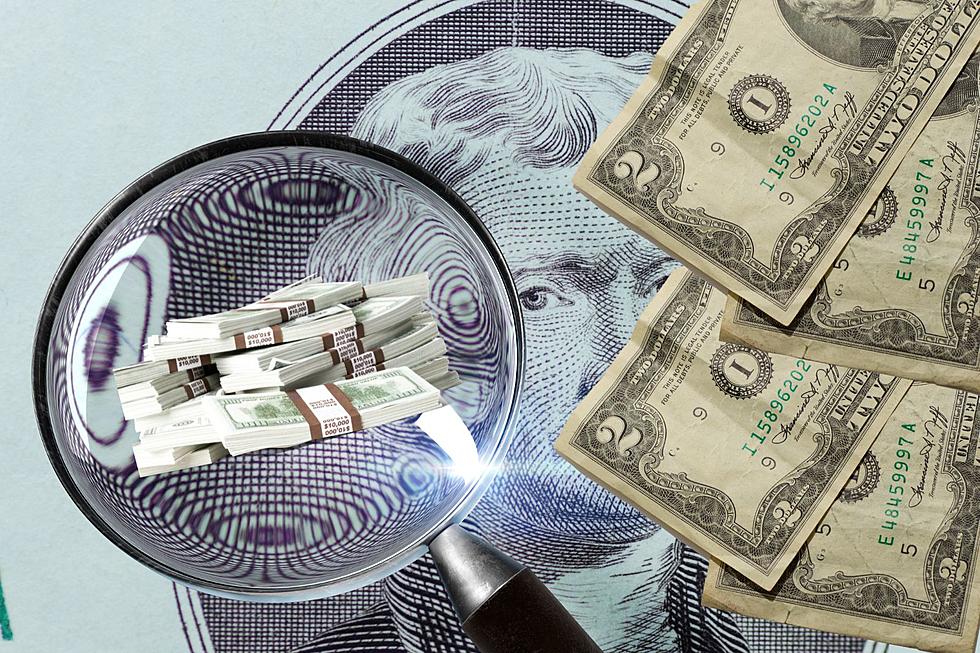 Hey New Yorkers! That $2 Bill Could Be Worth Thousands!
Canva
I had a relative who always gave out two-dollar bills as a gift. It didn't matter if it was a birthday or holiday, that person always included a two-dollar bill with the gift. I wish I had kept some of those $2 bills because they could be worth hundreds if not thousands now.
What Are We Looking For That Makes These $2 Bills Valuable?
There are three main factors that make these bills worth a lot of money according to MarketWatch. They are if they were in circulation, the serial numbers, and the condition of the bill.
The main factor is if it was in circulation. Uncirculated $2 bills with red or brown seals can be worth thousands. So if you stashed away a $2 bill that was given to you by a relative who got it from a bank (uncirculated) you may be sitting on some serious cash.
Next, collectors are really interested in the serial numbers. Solid serial numbers, which are all of the same digits, are high in value. So are ladder digits in the serial number. These are numbers in ascending order.
Also if a serial number is printed on the left and right side of the bill, starts with the number one, and was printed in 1976, this bill is very rare and could be worth $20,000!
The condition of the $2 bill is another factor in the value. Obviously the more pristine the more valuable.
The $2 bill has been in circulation since 1860 but there are several editions out there including ones that were printed in 1963. Some of these bills have Thomas Jefferson's face, or America's first Secretary of the Treasury, Alexander Hamilton featured.
Check out the value of some of the $2 bills that have sold at auction, HERE.
2 Mansions w/ Stunning Panoramic Views of Lake George on Market for $16 Million
This lakefront compound on Lake George is situated on nearly three acres in an unbelievable location. It's just off of the Northway at exit 22 and within walking distance of Lake George Village. It boasts two mansions and each is three floors with each floor 5,668 square feet. Both homes are extraordinary. There are six bedrooms and four and a half bathrooms in each of the mansions. Closer to Lake George you will find two finished gazebos each with a kitchen, bathroom, and fireplace. There are six boat slips in a boat house and a U-shaped dock. Enter through a private gated entrance with two garages. This amazing property is on the market for $16 million.
Gallery Credit: 2023 Global MLS