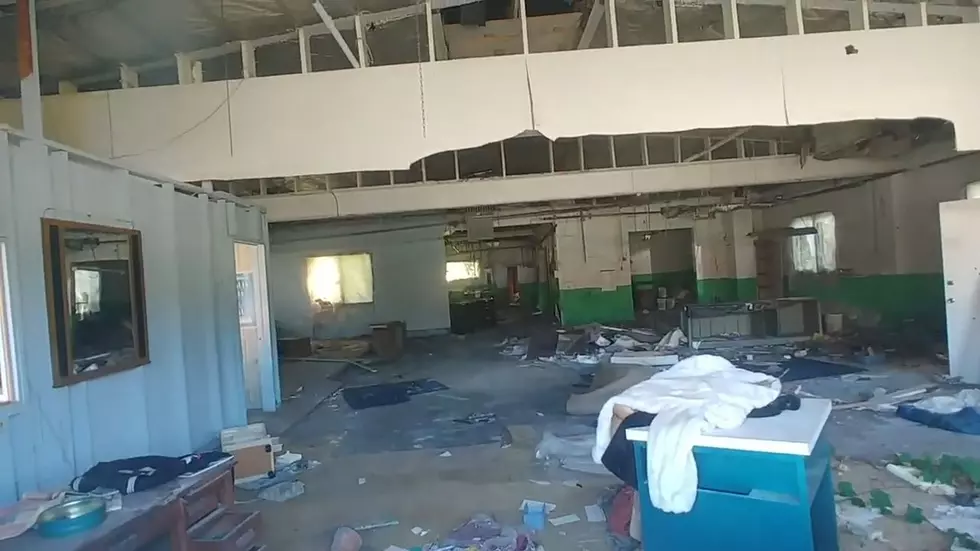 Abandoned Cap Region Dry Cleaner, Vintage Clothing Left Behind
Jasonvorhees91/YouTube
If you take Western Ave (Route 20) in Guilderland to work, you may have passed this building a number of times. It's the old Master Cleaners building and It's been falling apart for years.
According to DEC records, the dry cleaning business began operations in 1956 but closed down in 1996. Since then the site has gone through numerous ownership changes, but the building has continued to deteriorate.
The Town of Guilderland website says the property has been undergoing preparations for environmental cleanup for the property. Tests have concluded chemicals left over from years of operation have made their way into the soil and need to be removed before redevelopment can take place.
The photos taken by this urban explorer show the building falling into ruin, but a few things remain. In the office, a calendar can be seen still hanging on the wall, though it's impossible to tell from what year. The sign for Master Cleaners remains on the roof as does a neon Master Cleaners sign in the side window. In the front window, a colorful hanging plant still hangs (clearly fake flowers). One item that still remains is a white fur coat lying across a table. If it's yours, hopefully you still have your stub.
Aside from that, years of neglect have caused the building to fall apart. Chunks of the wall and ceiling scatter the floor. So very messy on the inside and out.
The current owner plans a mixed use site for the property that includes residential, commercial, and retail spaces with a bottom floor parking garage.
Check Out Abandoned Dry Cleaner Building in Guilderland
WARNING: Under no circumstances should you enter this property. By doing so you risk bodily harm and/or prosecution for trespassing on private property.
It is believed this dry cleaner operated from the 1950's but has been closed since 1996. It's located on Western Avenue in Guilderland. Plans are underway to do an environmental cleanup on the property and redevelop it into apartments and commercial/retails space.
Remembering Starburst Roller Skating Rink in Clifton Park
Talk about a flashback! Starburst Roller Skating Rink in Clifton Park opened circa 1980. It was located about three miles west of Northway Exit 9. Back in the 80's, it was ground zero for after school parties, birthday celebrations and group outings.
I specifically remember skating to Starship's 'We Built This City' when I was a kid. I also won a copy of Simple Minds 'Alive and Kicking' on 45 - which still may be hidden away in some crawl space at my childhood home.
You would enter through the front doors, all the lights would be on, so no vibe would set in until it was officially time to hit the rink. You'd get your locker token, then get your skates. Lock up your personal belongings in the tiny lockers and you'd be ready to rock the rink. The lights would go out, the music would play, and for the next two or three hours, where your only care in the world was trying not to break an ankle.
Over the years Starburst added more attractions to the rink, including a money grab machine, expanded arcade and their famous Play Station. No, not the video game console, basically a giant indoor jungle gym.
Starburst continued to be a destination through the 90's and into the early 2000's. They closed up shop permanently in 2005. The building was knocked down and a Gold's Gym was built in its space. Today the gym still operates as a Vent Fitness.
Abandoned Amsterdam Junkyard with Receipts and Checks Left Behind
These photos/video were posted in the spring of 2022. The site is the former Nathan's Waste and Paper Stock Company near the Erie Canal. The business was in operation from 1971 until 1993, when it was abandoned. Here's a look at what's left behind.
The Abandoned Rockland Psych Center Holds Many Secrets Inside
WARNING: Under no circumstances should you enter this property. By doing so you risk bodily harm and/or prosecution for trespassing on private property.
The Rockland Psychiatric Center was once home to over 9000 patients in the late 1950s. Although it still exists today, the hospital only operates on a tiny fraction of its 600 acre campus.