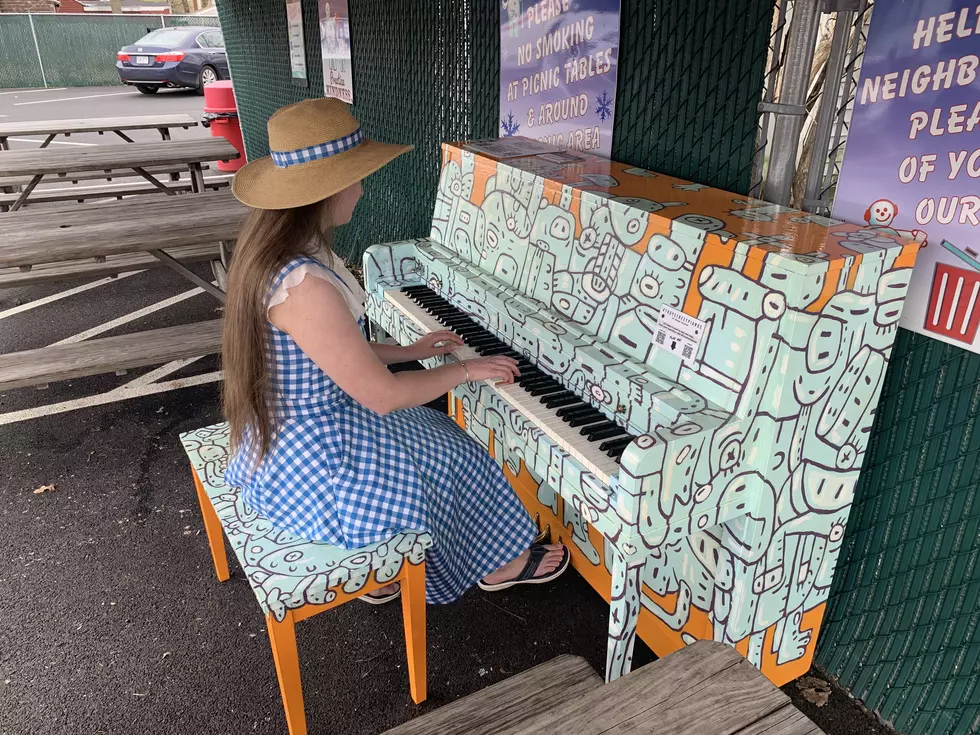 Street Pianos Return to Capital Region! Where Can You Find Them?
Kiera plays Beethoven's "Fur Elise" to the Saturday crowd at Snowman
If you're strolling through one of Troy's most picturesque squares, enjoying a sweet treat, or playing a pickup game of basketball, you may have some musical accompaniment now.
Whether you want to play "Piano Man" or just like playing the piano, man, look out for the Troy Street Pianos, organized by local music collective Organ Colossal. This public art project features three fully-working upright pianos across the city, designed and painted by local artists to give some a new - or first - musical experience.
It's been almost a decade since the area's last public piano installation. British artist Luke Jerram set up 13 public pianos in Albany in June and July of 2014. Those touring pianos were moved to a new city at the installation's conclusion.
Organ Colossal was co-founded by local musicians Sophia Subbayya Vastek and Sam Torres, and the Troy-based non-profit's mission is, "Creating gathering spaces for music in the New York Capital Region."
"The In Crowd" by Fernando Orellana
Born in El Salvador, El Salvador, Fernando is a machine designer and an Associate Professor of Digital Art at Union College. His works have been featured at the Minneapolis Institute of Art, the Toledo Museum of Art, and the Pennsylvania Academy of Fine Art.
Check this one out at Snowman, 531 5th Ave in Lansingburg. (Just try not to drip any ice cream on the keys.)
"Waiting to be Heard" by Chloe Harrison
Chloe is a freelance illustrator and muralist whose work explores communication, relationships, and the natural feelings, good and bad, that come from both. She's a Troy resident and has been featured by many local galleries.
See Chloe's work outside 518 Craft at 2nd and Broadway on Monument Square in downtown Troy.
"Street Art Piano 4Mx Heart & Soul" by ObaRoEne!
ObaRoEne! Is a Nigerian American artist promoting youth art education. He also holds several Guinness World Records for hula hooping, and previously held a record for hula hooping while in an abdominal plank position for three minutes in a viral video.
In his words, his piano, "is about finding and following our flow with music as keys open pathways and function as guides for collective harmony."
Visit this piano at Lots of Hope Park, at the corner of 2nd and Jackson in South Troy.
You can find out more about Organ Colossal and their upcoming events at OrganColossal.com.
Capital Region Sports Fan Favorites Captured by Troy Artist Ian Anderson