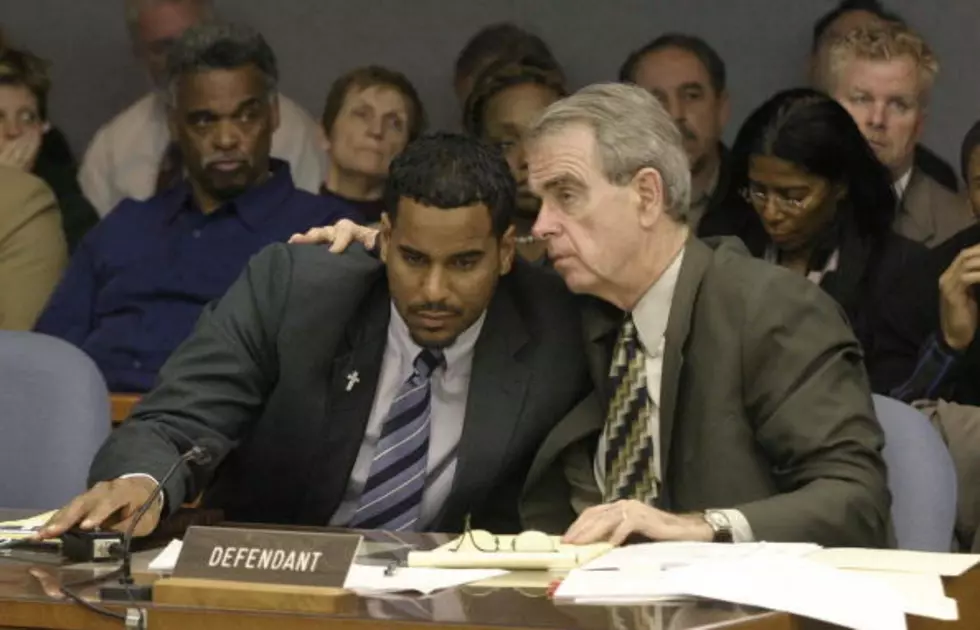 St. John's Is Out Of Bounds Honoring Ex-New York Hoop Star
Getty Images
We should all be sympathetic to a person's struggles with addiction. We should all celebrate with that person when they get things together and move on to recovery. However, when that person, while a NBA player; was accused of braking a beer mug over someone's head in a bar; shot and killed a man while drunk playing with a shotgun and was convicted of trying to cover it up; made tens of millions of dollars playing NBA basketball but did not pay the child support that he owed to his two daughters, and now you are going to honor him in your collegiate athletic Hall of Fame? St. John's University is out of touch.
The player is Jayson Williams. He starred for St. John's basketball and legendary head coach, Lou Carnesecca from 1987 to 1990. Williams went on to play 9 years in the NBA. Jayson Williams has had a ton of tragedy in his life besides the circumstances that he created. According to an article by Ryan Glasspiegel of nypost.com, Williams told the Post in 2019 that he has been sober for more than 3 years. Awesome. In that same 2019 article, Williams acknowledged his deficiencies as a father and the troubles that addiction has brought to his life. Awesome. However, honoring, let's focus on the word honoring, Williams with an induction to their athletic Hall of Fame demonstrates a complete lack of institutional awareness by the St. John's administration.
Having worked in Division I college athletics for 23 years, I can say this with some authority: student-athletes receive scholarships not just to play basketball but to go to school and become better decision makers in life. If St. John's is honoring the athlete, then they are honoring that St. John's educated that athlete. Hey parents, do you want to send your kid to school so they become worse members of society? Then send them to St. John's where you can do just about anything and the Johnnies will put them in the Hall of Fame, if they win games. I am sorry that Jayson Williams' life went off the rails and I'm happy for his recovery but his laundry list of selfish, life depraving behavior, isn't absolved in a few years. St. John's alumni, is this who you want represented in your athletic Hall of Fame? Are you coming back to HONOR this person?
Jayson William's daughters are lambasting the university for their insensitive behavior. According to Glasspiegel, a St. John's spokesperson told the AP they plan to go along with the ceremony. "Jayson Williams's life journey is one that includes childhood trauma, time spent in a homeless shelter, addiction, incarceration, and recovery; issues that impact countless American families. The family dynamic between Jayson and his children is not a matter that St. John's University will discuss," St. John's said in a statement. Well, there you have it. I guess any type of religious or moral standards that you thought St. John's may have had at one time have evaporated. There is little doubt that his daughter's and the family of the person that Williams shot will not be celebrating homecoming with the Johnnies.
New York's 15 Biggest Party Schools Ranked For 2022
This ranking comes from the US college aggregate website
Niche
. Started in 2002, Niche provides comprehensive reviews and information for colleges on pretty much anything you'd want to search. They used student reviews and other data to pull this together, so we're standing by it. Now let's get this party started!
These Are New York's 14 Most Expensive Colleges For 2022
The
Business Journals
calculated total yearly cost for higher learning across America. Their total cost figures no financial aid, no in-state discounts for public universities, and the cost of books, room, board, and general living expenses.
By far, New York is the country's the most expensive state for college, with more schools in the top 60 than any other state. We have 14: one in the top five, and three more in the top 20. Massachusetts finished second with 10 colleges in the most expensive 60. This is probably not a distinction to be particularly proud of, but as inflation continues this trend isn't likely to slow down over the next year.