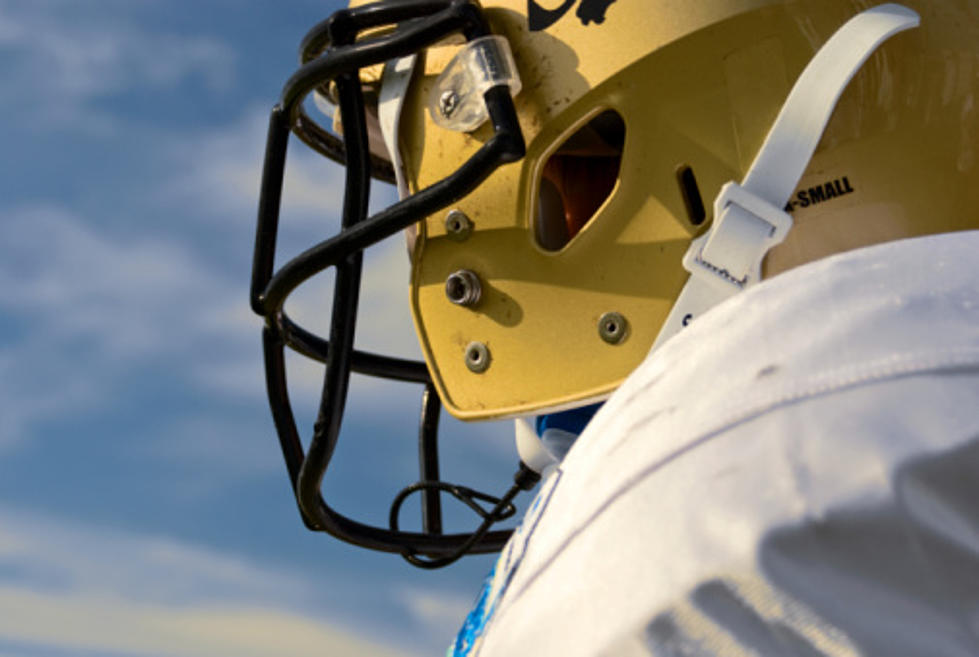 Part II – Let's Scout Section II HS Football Champs Opponents
Getty Images/iStockphoto
OK, on Thursday we talked about the Class A & AA games. Now let's get to our Class B, C and D Section II high school football champions playing this Friday and Saturday. This is their road to the Carrier Dome in Syracuse to play for a New York State Public High School Championship. That is really cool for all teams involved. So, what do we know about the teams that Ravena-Coeymans-Selkirk, Schuylerville and Greenwich are facing?
The Class B matchup of champions on Friday night at 7pm at CBA in Albany features Section II champ Ravena-Coeymans-Selkirk faacing Section VII champion Peru. RCS comes into the match-up with a 9-2 record. They are coming off of a huge upset turnaround victory over powerful Glens Falls in the Class B semi-final after being walloped 42-0 by Glens Fall on the last week of the regular season. RCS head coach Gary VanDerzee and his team beat Gloversville last Sunday 33-14 to win the title. They will take on Peru, the Section VII champion. Peru head coach Ryon O'Connell led the Nighthawks to a 7-2 overall record. One of Peru's losses came to Section II powerhouse Fonda-Fultonville in the first game of the season, 49-12. After that game Peru's defense dominated most of their opponents. The Nighthawks offense can put up points as well, scoring 28 or more points in their 9 games.
Saturday afternoon at 2pm at Massena High Sch Class C match-up will see Section II champ Schuylerville face off against Section X champion, Ogdensburg Free Academy. Head coach John Bowen has led Schuylverville to an undefeated season. The Horses' offense has pounded their opponents scoring 363 points in their 10 games while only giving up 84. Schuylerville defeated Fonda-Fultonville last Friday for the Section II title. Ogdensburg Free Academy is led by head coach Matthew Tessmer. The Blue Devils offense is also powerful, racking up 356 points while only giving up 136 on the defensive side of the ball. Ogdensburg Free Academy finished the season with a 9-1 record and defeated Saranac Lake 28-14 to clinch the Section X title.
Finally the Class D match-up this week will be played Friday night at 7pm at Mechanicville High School. Section I champion Tuckahoe will face Section II champion Greenwich. Witches, haven't lost in the last two seasons under head coach, Brandon Linnett. According to the poughkeepsiejournal.com sports staff scouting report, "Senior quarterback Jesse Kuzmich is a dual-threat and a four-year starter who has plenty of playmaking ability as a runner and passer. Matt Conlin, a 5-foot-11, 240-pound sophomore, is Greenwich's leading rusher and had 174 yards and two touchdowns in the Section 2 final. The Witches rely on a host of two-way players but they've made it work, winning all but one game by double digits." The 8-1 Tuckahoe Tigers are led by head coach John D'Arco. The poughkeepsiejournal.com scouts say," The Tigers have played the last three games without dual-threat quarterback Michael Annunziata, who is the focal point of their offense. He's getting closer to returning from an ankle injury, but sophomore Jax Colacicco, if he starts again, is 5-0 as a starter. Tuckahoe will have no problem leaning more heavily on senior Michael Meyers, a three-way star with plenty of state playoff experience. He rushed 40 times for 352 yards and three scores in the Section 1 final.
Best of luck to all of the teams this weekend. Burnt Hills-Ballston Lake head coach Matt Shell joins The Drive with Charlie & Dan today about 5:15pm on 104.5 FM or on 1045theteam.com.
$12.5 Million Berkshires Estate In Nearby Lenox, MA Is Birthplace of Versailles Treaty
33 bedrooms, 15 bathrooms, numerous fireplaces and priceless American history are all featured in this 20,821 square foot estate right across the border in Lenox, Mssachsetts.