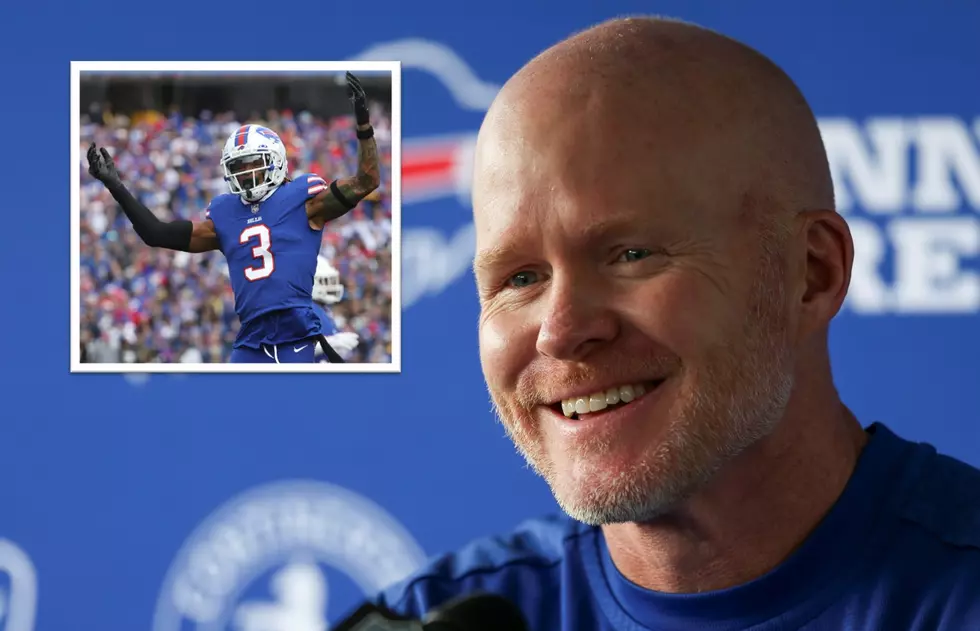 'Almost Daily': This Update on Buffalo Bills' Damar Hamlin Will Make You Smile
Getty Images
It was on January 2, 2023 that Damar Hamlin collapsed on-field at Paycor Stadium in Cincinnati, and since that time, his recovery has been the largest story in sports.
He was rushed to the hospital, and had to be resuscitated twice before being put on a ventilator. Days later, he re-gained consciousness, and began to communicate with friends and medical staff, now-famously asking them did we win. He continued to recover in Cincinnati, before travelling back to Buffalo, where he was admitted to a hospital, and soon after, was officially sent home.
We received another update on the condition of the 24-year old on Wednesday, and for fans of the Buffalo Bills specifically, this update is one of the best we've heard so far.
---
Sean McDermott Offers Incredible Update on Buffalo Bills' Damar Hamlin
A story from Yahoo! Sports and other outlets shared details from Buffalo Bills' head coach Sean McDermott, who offered an update on 24-year old safety Damar Hamlin on Wednesday, January 19th.
McDermott told the media that since returning to Buffalo, and being officially discharged from the hospital, Hamlin has returned to the Buffalo Bills' training facility, and has been in the building among his teammates "almost daily".
McDermott offered a bit more information on Hamlin's return:
"[His presence is] limited. But he comes in and really just started really today or yesterday and just trying to get back to a little bit of a routine and just get himself acclimated again and taking it one step, one baby step at a time here." - Sean McDermott via Yahoo! Sports
Hamlin returned to the facility last week prior to Buffalo's wild card game against Miami, according to an Instagram post from teammate Matt Milano that's cited in the Yahoo article. He did not attend the game against Miami, and we're still eagerly waiting to see if he appears at Highmark Stadium for the Bills' game against the Cincinnati Bengals.
The update shared by Coach McDermott has two great things about it. First and foremost, Hamlin is back with his teammates and coaches in Buffalo after weeks of recovery on his own, and that is a miracle in-and-of itself.
Secondly, however, McDermott mentioned how Hamlin is attempting to establish a routine for himself now that he's back with the team. I'm sure he's not running wind sprints or dead-lifting just yet, but "establishing a routine" is an important foundational step for a person who clearly has his sights set on a return to the football field at some point.
We're not worried about that part yet, though. The miracles continue for Damar Hamlin, his family, and his other family with the Buffalo Bills, and we're just extremely thankful for all of that.
NFL Players, Coaches Rally Around Buffalo's Damar Hamlin in Emotional Weekend
In the first NFL game action since Damar Hamlin went into cardiac arrest, players and coaches leaguewide donned t-shirts to show support for the Buffalo player.
Fans Gather at Cincinnati Medical Center to Pray for Buffalo's Damar Hamlin
Fans in Cincinnati have gathered outside Cincinnati Medical Center for a candlelight vigil to pray for the health and safety of Buffalo Bills' safety, Damar Hamlin.