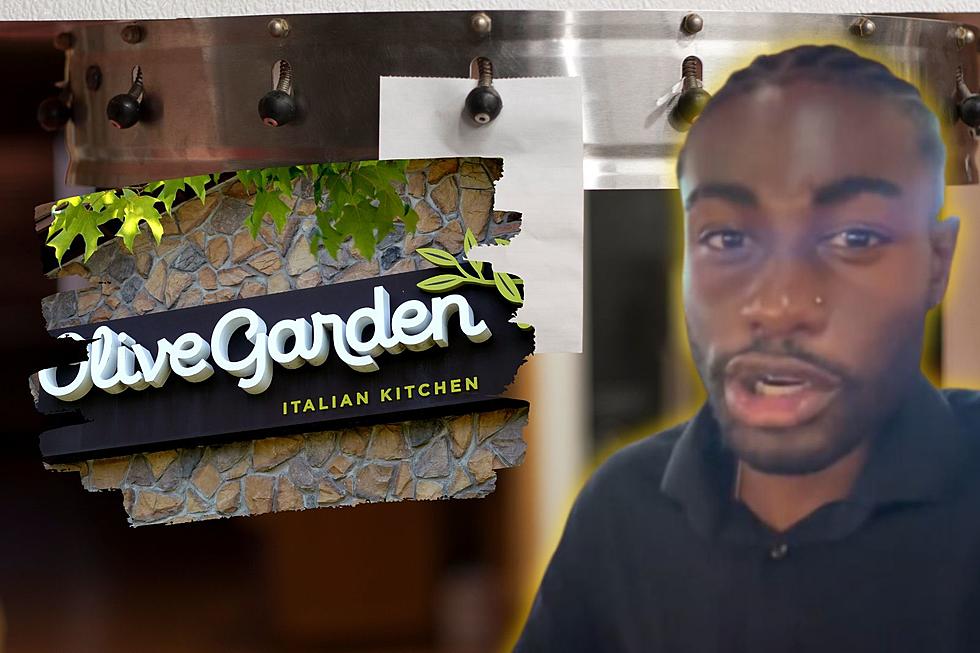 Server Begs Customers to Eat at Olive Garden in Viral Tiktok
Getty/Canva/TikTok@t.heophilus
A server's viral Tiktok alleges dysfunction within Olive Garden, the restaurant known for its breadsticks and slogan "When You're Here, You're Family."
The Viral Video
User @t.heophilus shared his complaints in a video posted to Tiktok last weekend (July 30).
"I'd like to make a formal complaint. There's too many servers here. I'm not making a liveable wage. Who do I need to talk to--because I can't do this no more," he states.
He then pans around to an almost empty dining room and says, "I don't know if y'all know this, but Olive Garden is open. Come get you something to eat. Ask for Marcus!"
The Drama
The dining room in the video appears to only be occupied by other Olive Garden serves, prompting Marcus to chat with his manager in the kitchen area. He alleges that the overstaffing makes it difficult and asks the manager how the staff should handle the situation.
The manager can then be heard off-camera saying, "Get another job."
The video, posted on July 29, has since been viewed over 137,000 times. As of today (Aug. 2) Olive Garden has not issued an official response.
How Many of These Iconic Mall Food Court Restaurants Do You Remember?
From retro favorites to the icons that are still serving customers today, take a walk down memory lane with our roundup of the most iconic mall food court restaurants of the '80s and '90s.
30 Hilarious Minor League Baseball Teams That Sound Fake, But Are Actually Real
We went through every Major League Baseball team's Minor League affiliate list to find the most hilariously creative team names and the ballpark promotions they present to their fans. From biscuits to Mullet Thursdays, here are 30 of the best Minor League Baseball team names and ballpark promotions.