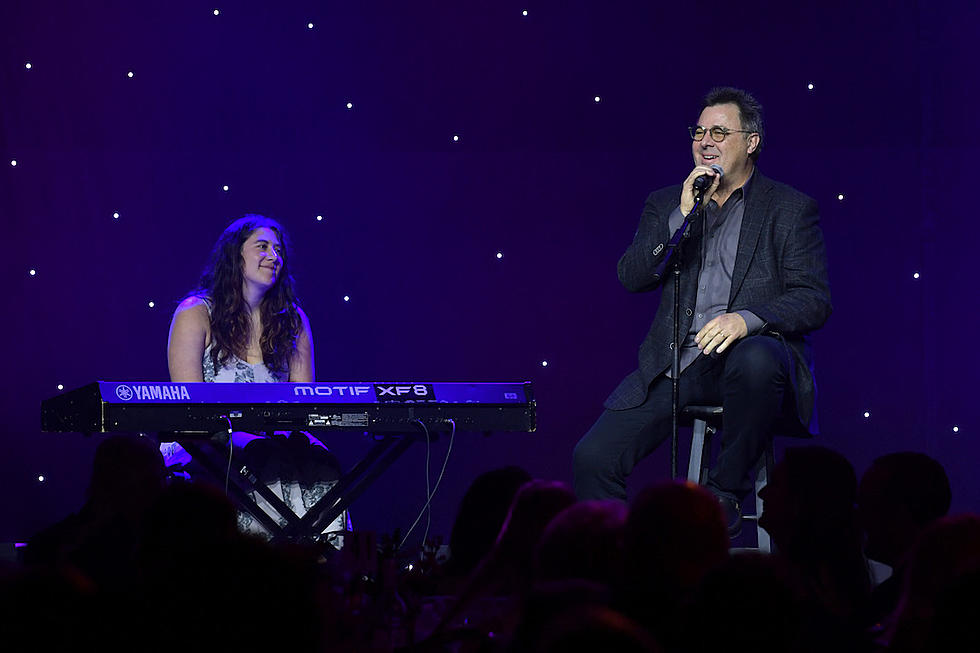 Vince Gill Is Glad His Daughter Doesn't Want His Career Advice
Jason Kempin, Getty Images
Vince Gill's 22-year-old daughter, Corrina, is a musical artist in her own right. Earlier this month, she put out a new song called "Too Much." That doesn't mean she wants a leg up from her legendary dad, though: Gill says that Corrina doesn't ask him for career advice.
"Not once," the singer admits backstage at Nissan Stadium during CMA Fest, shoving his hands in his pockets as he dissolves into a laugh.
Gill's still more than ready to brag on his talented daughter.
"She's a smart kid. She's all about it. I would've given anything if I could sing as good as she does now — when I was 22, I didn't sing that good," he continues.
In all seriousness, he doesn't mind being benched when it comes to Corrina's career — if anything, he admires her determination to go it alone.
"I just love that she's finding her own way. I'm always here with advice if she wants it. Occasionally she does, but it's very seldom, and it's fun to watch her figure it out," Gill reflects. "It's fun for her to make connections with the people she makes connections with, who she's chosen to make a record with and all that."
He also clarifies that he's got no reservations about his daughter pursuing music.
"Some people would say to me, 'You wouldn't want your kid to go into the same business you've been in, would you?'" Gill relates. "And I would say, 'Hell, I've had a great life.' I wouldn't trade places with a living soul on this earth. So I would wish that for my kid all day long."
Gill might not be providing any career insight for his daughter, but he has provided some guidance for other young country acts, like King Calaway.
"They're at that point where they've been doing it for a long time, struggled and whatnot, trying to hit the home run. I told them, 'It's gonna come when it comes,'" he reflects. "There's nothing you can do about it. There was never anything I could do about it. I came here making records starting in the early '80s and struggled for a long time, a long time, before I cracked the code."
He also points out that that hitmaker status doesn't last forever — "I tell everybody, 'Hell, they quit playing Elvis -- they're gonna quit playing you,'" he quips — but even past his radio heyday, Gill still finds the joy and value of releasing new music.
"I'm always hopeful it'll strike something for someone. That's what music's always been, a conversation," he notes. "When people give you the opportunity to have a conversation come back to you, it's the best feeling in the world."
The 50 Saddest Country Songs of All Time
Each one of the 50 saddest country songs of all time tells a story. Some of those stories are about the pain of heartbreak, while others explore the grief of losing a loved one. Some are about more unconventional subject matter — from infertility to the loss of the beloved family dog — while others tap into the universal subjects of heartbreak and loneliness. Flip through the gallery below for a list of the saddest country songs, ever.