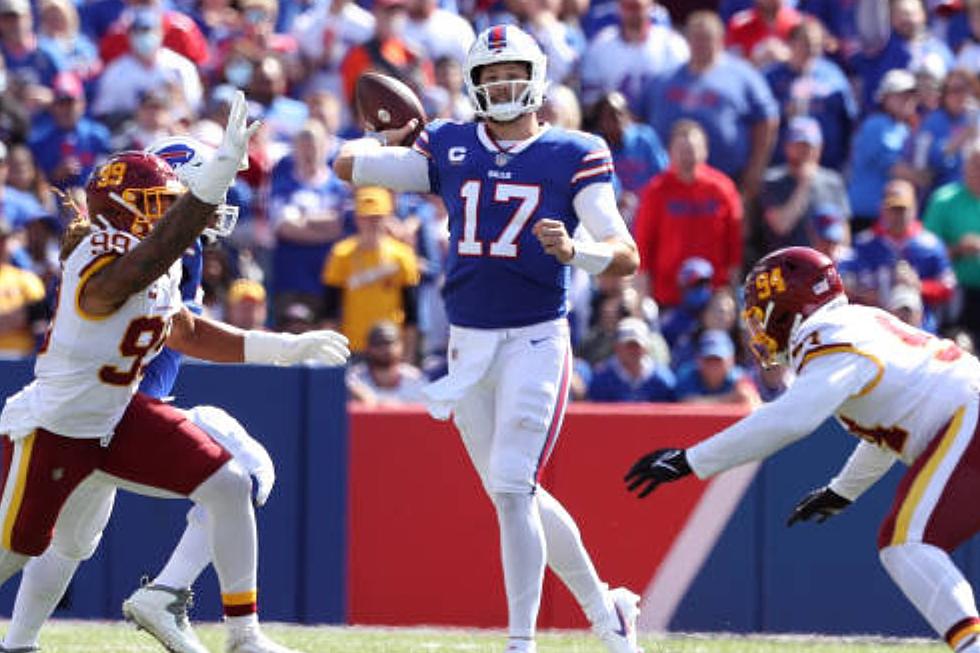 Bills Bringing Back These Uniforms Against Washington
Getty Images/Canva
In just a few days, the Buffalo Bills will head to FedEx Field for a sold out matchup against the Washington Commanders. 
Bills fans are getting more and more excited by the day for Sunday's game. The Bills are looking to capitalize on the momentum of their massive 38-10 victory over the Raiders last week, while the Commanders hope to keep their early winning streak alive.
The last time Washington started the season 3-0 was back in 2005, so there's a lot of pressure on both teams to walk away with a win.
So what look will they be sporting on Sunday as they attempt a victory in week three? Keep scrolling to see the uniforms the Bills will be wearing when they hit the gridiron this weekend.
What The Bills Have Worn So Far This Season
In their week one loss against the Jets (a game Bills Mafia is still trying to forget), Buffalo played in their classic all-blue uniform with white helmets. 
For their Highmark Stadium homecoming last week, the Bills still rocked blue jerseys and white helmets, but switched things up by wearing white pants.
Buffalo Bills Reveal Uniform Colors For Week 3
This Sunday, it'll be white on white on white.
When the Buffalo Bills take on the Commanders this Sunday, they'll be showcasing a clean look from head to toe, with white helmets, white jerseys, and white pants.
You've got to love the classy all-white uniforms, but we hope the Bills' equipment manager has plenty of stain remover ready for laundry day.
6 Buffalo Bills Greats That Didn't Look Right In A Different Uniform
Unfortunately, sometimes your favorite player leaves your team and when you see them it just looks weird. Here are five former Buffalo Bill greats that just look weird wearing a different team's jersey.
The Newest Buffalo Bills Jersey Numbers
One Sentence That Will Immediately Enrage Buffalo Bills Fans [LIST]
Disclaimer: If you're a Buffalo Bills fan and feeling slightly annoyed today, you're about to fly off the handle.